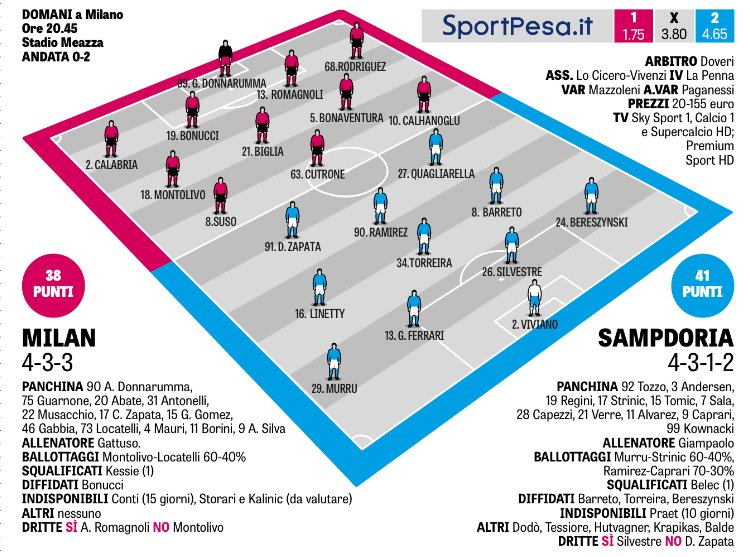 Donnarumma; Calabria, Bonucci, Romagnoli, Rodriguez; Montolivo, Biglia, Bonaventura; Suso, Cutrone, Calhanoglu.
Donnarumma A., Guarnone, Abate, Antonelli, Gomez, Musacchio, Zapata, Locatelli, Mauri, Borini, André Silva, Tsadjout.
I really hope we go into this match with the same sort of concentration and attitude as we saw against Lazio a few weeks back. Sampdoria are very dangerous, I mentioned this in the first tie this year and we got dominated and lost. They're also having their best season in Serie A since clubs got 3 points for a win. Basically, don't take this match lightly. They have a very good coach, they have some good players and they are very capable of giving any team in the league an upset on their day.

That said, we're in good form and have confidence going into this. If we play the game well prepared and with the right attitude, there's no reason not to expect a win. Expect a high press and periods under pressure. As long as we avoid technical errors when deep and counter press correctly to avoid direct balls to their attackers, then there's no reason not to win this match.
This is going to be a very difficult 90 minutes. Sampdoria is one of those teams that hustles and presses very heavy in the middle. On top of that, their transitional play is very dangerous.

We HAVE to win this. There is no other way about it. These next 3 games, starting with today, will determine if we can go on fighting for 4th or if can completely focus on the EL.

We have to be compact and not lose the ball in the midfield due to Sampdoria's pressure there. If we can manage that, then we will win. I hope that Montolivo is up for this. I was hoping for Locatelli, but it is what it is....
Rodriguez is our pen taker presumably because he had history before coming to us right? I don't get these decisions, leave to Bona, Cutrone even. And using the chance of penalty to take a non-powerful shot is rather dumb, so many do it...
Monto sweats faster than anybody I have ever seen