---
RE: Summer transfer window 2017 - AC_Troy - 07-02-2017






---
RE: Summer transfer window 2017 - ACMILAN1983 - 07-02-2017

Aficio I do rule out seeing a regular 3 man defence. We look set to have 5 CBS in the squad, we'd need 2 more to use a 3 man defence with regularity. That isn't to say we can't use it on occasion.

More important to me than formation is ensuring we play with the right style. Every new player coming in is getting a tour of casa Milan and milanello. However, I think the best way Montella can get the message across as to what it means to wear the shirt is to show some games from the teams of the past, particularly the sides from 1988 to 1994. Not only does it show history, but in terms of style of play it is for me the example for how Milan should play. 

Even today when I watch those sides they still send shivers down the spine. The way they compact and press defensively means opponents get no time on the ball and are quickly forced to give up possession. On the ball that team would move the ball quickly with one or two touch passing, they were direct and would effectively play long too. Plus they had players who could dribble, meaning they had the qualities to play however the situation required. Nor was it rigid, as the shape was never lost, but players would dynamically shift position as the situation required. For me it remains the most entertaining and effective brand of football I've ever seen.

If in Montella's shoes, I'd want the team to watch those matches and say that the team needs to build it's identity based on those traditions, namely pressing as a very compact unit, moving the ball extremely quickly and directly and maintaining discipline and intensity at ALL times. Those qualities can only be achieved by putting egos at the door and working as a group towards the goals together


---
RE: Summer transfer window 2017 - porcho - 07-03-2017


(07-02-2017, 10:46 PM)

ACMILAN1983 Wrote: Aficio I do rule out seeing a regular 3 man defence. We look set to have 5 CBS in the squad, we'd need 2 more to use a 3 man defence with regularity. That isn't to say we can't use it on occasion.

More important to me than formation is ensuring we play with the right style. Every new player coming in is getting a tour of casa Milan and milanello. However, I think the best way Montella can get the message across as to what it means to wear the shirt is to show some games from the teams of the past, particularly the sides from 1988 to 1994. Not only does it show history, but in terms of style of play it is for me the example for how Milan should play. 

Even today when I watch those sides they still send shivers down the spine. The way they compact and press defensively means opponents get no time on the ball and are quickly forced to give up possession. On the ball that team would move the ball quickly with one or two touch passing, they were direct and would effectively play long too. Plus they had players who could dribble, meaning they had the qualities to play however the situation required. Nor was it rigid, as the shape was never lost, but players would dynamically shift position as the situation required. For me it remains the most entertaining and effective brand of football I've ever seen.

If in Montella's shoes, I'd want the team to watch those matches and say that the team needs to build it's identity based on those traditions, namely pressing as a very compact unit, moving the ball extremely quickly and directly and maintaining discipline and intensity at ALL times. Those qualities can only be achieved by putting egos at the door and working as a group towards the goals together

THIS!!!! I would love for us to go back to that style.

As for he 3 defenders formation. I'd rather us not go down that route. We're looking forward with players but goin a 3-5-2 shows 0 forward thinking. That formation is a CL killer. Look at Juventus, the minute they drop the 3-5-2 hey make two finals in a row... plus, that would mean we need a top cb and another backup. Can't really see us spending another 20-30 on a cb when we've still got a couple more to finish off our midfield and attack


---
RE: Summer transfer window 2017 - AC_Troy - 07-03-2017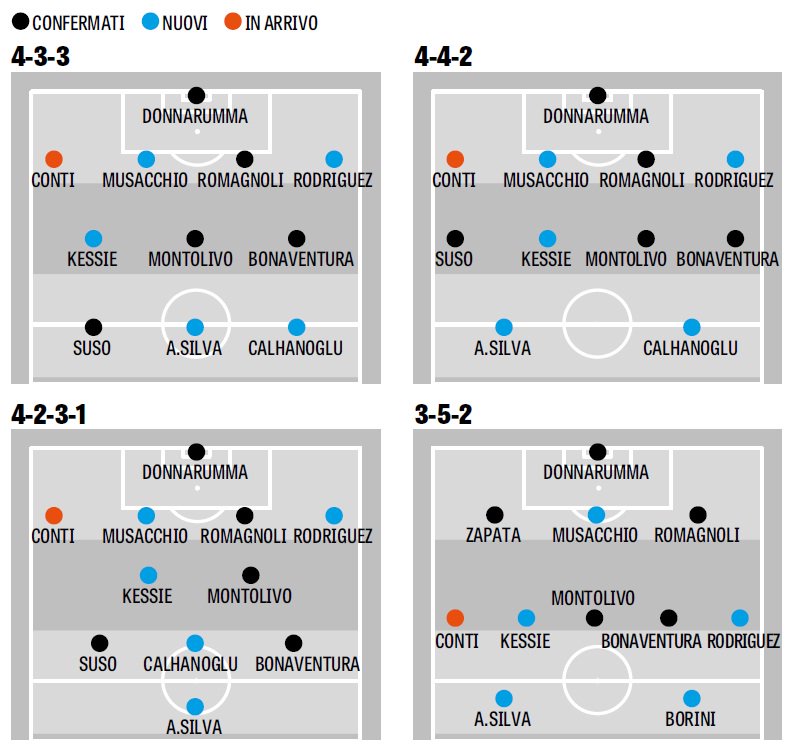 As of right now, of course..


---
RE: Summer transfer window 2017 - ACM2020 - 07-03-2017

Montolivo is in every lineup.


---
RE: Summer transfer window 2017 - reza - 07-03-2017

Read back my older posts lol, captain is not being dropped just like that initially, wishful thinking more than not. Even if Biglia arrives I wouldn't bet on it.


---
RE: Summer transfer window 2017 - WCmilan - 07-03-2017

I don't think Montolivo will be too bad when he's playing with better players. He's done pretty well with the national team when he's fit & the coaches always seem to like him so obviously he's got something to offer. To be honest, when your starting midfield consists of Kucka, Poli it can make any player look below their best.

I think some of our players who are half decent will step up once they're playing with better players. If we keep Sosa he's one, Montolivo is another that comes to mind, and also Abate has had a tendency to play very well when he's motivated. When we had Ibra/Binho he was playing really well. He's had some decent games, and when he's called to the NT he also puts in solid performances. I think he just needs motivation and a team that he can see actually having a chance to win titles.

Anyhow, the team looks pretty complete with Calhanoglu's signing and Conti around the corner. I'd already be happy with this mercato. If we sign a couple more players, I'd be even happier. I think the only players we can expect are two attackers, one striker & one winger, another midfielder (maybe our big signing?) and then possibly Kjaer for the defense as first choice sub.

Would signing Rodriguez, Kalinic, Kjaer & Biglia be too much to ask

That would be another 60m+25m+15m+20m=120m
If we sell Bacca 20m, Lapadula 15m, Bertolacci 10m, Paletta 5m, Kucka 5-6m about 55m of that will be recovered. To be completely honest though, I don't see this management being able to spend that amount. We'll be almost 300m in one mercato lol.

To me, the realistic end to this mercato would be signing Biglia + Kalinic + Kjaer and that's that, and our formation at that point would probably be a 4-2-3-1 IMO


---
RE: Summer transfer window 2017 - Aficio - 07-03-2017


(07-02-2017, 10:46 PM)

ACMILAN1983 Wrote: Aficio I do rule out seeing a regular 3 man defence. We look set to have 5 CBS in the squad, we'd need 2 more to use a 3 man defence with regularity. That isn't to say we can't use it on occasion.

More important to me than formation is ensuring we play with the right style. Every new player coming in is getting a tour of casa Milan and milanello. However, I think the best way Montella can get the message across as to what it means to wear the shirt is to show some games from the teams of the past, particularly the sides from 1988 to 1994. Not only does it show history, but in terms of style of play it is for me the example for how Milan should play. 

Even today when I watch those sides they still send shivers down the spine. The way they compact and press defensively means opponents get no time on the ball and are quickly forced to give up possession. On the ball that team would move the ball quickly with one or two touch passing, they were direct and would effectively play long too. Plus they had players who could dribble, meaning they had the qualities to play however the situation required. Nor was it rigid, as the shape was never lost, but players would dynamically shift position as the situation required. For me it remains the most entertaining and effective brand of football I've ever seen.

If in Montella's shoes, I'd want the team to watch those matches and say that the team needs to build it's identity based on those traditions, namely pressing as a very compact unit, moving the ball extremely quickly and directly and maintaining discipline and intensity at ALL times. Those qualities can only be achieved by putting egos at the door and working as a group towards the goals together


Oh man, yesterday I rewatched the highlight of European Super Cup 2007 Milan vs Sevilla and was lost in thought for a moment. That was the latest time Milan were considered the world strongest.

I absolutely agree with you about making the players sinking in the memories of 1988 to 1994. Milan were not only dominating but also redefining football.

We have a new social media director (or someone like that
). He should have some serious thoughts about representing how great Mian were.

My main concern is still about playing with two attacking wing backs at the same time. That could leave our defense exposed. If we do not add another CB (I do not like it either), we should at least have a good ball winning DM to fill in the space. In 2007 we had 2 world class DMs with great tactical awareness so the flanks could be covered, but we don't even have one proper ball winner now.

Hakan Calhanoglu will sign in some minutes, Montolivo is inspired for World Cup, and Bonna, Suso, RR & Conti can also provide good passes -> A player like Biglia is not the top priority anymore.

I feel more relieved if we could buy a destroyer.


---
RE: Summer transfer window 2017 - GeoTav - 07-03-2017

I also don't think Montolivo will be dropped for sure. And I agree with WCmilan : Montolivo is quite a good player when he has better players around him. His problem is that the guy isn't a technical leader, neither does he look like a charismatic leader (why the captaincy ?! Do we miss something ?), which means when you put useless midfielders around him, the guy is just bad.

I saw the formations and ... why is Borini starting over Bacca in the 2 striker formations ?
So far, Bacca is still a Milan player and publicly stated he wants to stay (which could help us to get more money if other clubs really want him and we do want to sell him). The guy can be useful with the players we're going to send on the pitch (finally players who are able to pass and cross, and even dribble other players to create spaces in the are of our opponents !).

Sosa and Kucka must follow Poli.
Locatelli has to stay.
Fernandez already left ? If not, he needs to leave too.

That would let us with Monto, Kessie, Cahla, Loca and Bona. We don't need anyone else, except if we plan to play with a 3 midfielder formation, or if the plan is to send Bonaventura on the left or higher up on the field.

The hardest work will begin for our new managers : getting rid of the dead wood !
Tuttosport counted 35 players in our squad.


---
RE: Summer transfer window 2017 - ZvonimirBoban - 07-03-2017

I vaguely remembered Montolivo's first match as a captain was when no one's available and he's given captain armband... vs Juventus and we won 1-0. Maybe that's why?
---