---
RE: Summer transfer window 2017 - Arildonardo - 07-26-2017

Fassone says Sanches is too expensive and that there are no talks ongoing. But if Bayern lower their asking price then talks can start again.


---
RE: Summer transfer window 2017 - AC_Troy - 07-26-2017


Quote:Sky say that, out of curiosity, Milan have inquired about Cristiano Ronaldo during their meeting with Jorge Mendes.
---
RE: Summer transfer window 2017 - PassiamoAlleCoseFormali - 07-26-2017


(07-26-2017, 08:45 PM)

Arildonardo Wrote: Fassone says Sanches is too expensive and that there are no talks ongoing. But if Bayern lower their asking price then talks can start again.

Need to wait for sell Bacca,Paletta and Sosa then first we buy a striker and then maybe R.Sanchez.
I do not put Kalinic among the possible purchases because if they wanted to take they can do it even tomorrow morning also Belotti very hard,Cairo say or 80M or nothing.
Until August nothing happens, you can go quiet at the sea.
Now Diego Costa is on fire but In Italy we are accustomed to certain diacritic, for example: they say no we don't buy Diego Costa and the next day they do it


---
RE: Summer transfer window 2017 - Hitman - 07-27-2017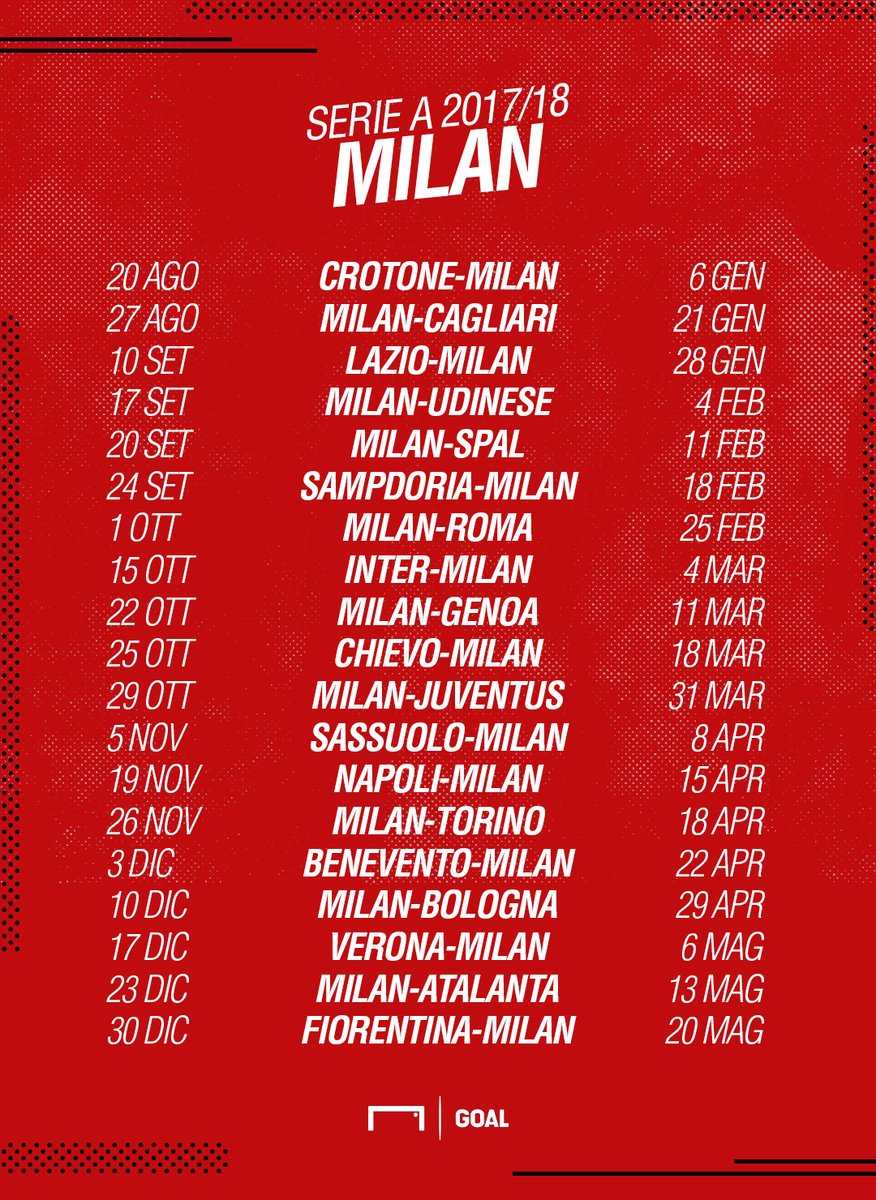 ---
RE: Summer transfer window 2017 - reza - 07-27-2017

Hitman, please post that in its own thread, and everybody please use that thread to talk about it, thanks
http://www.milanmania.com/forum/showthread.php?tid=1475


---
RE: Summer transfer window 2017 - porcho - 07-27-2017


(07-26-2017, 11:26 AM)

Siregar Wrote: Really curious with the bold part?

Not to be disrespectful, but do you like Inter? Or are you from Portugal? You made it like he was so fucking good! 

I've spent the last 5 years watching him play... Trust me... I know he's good. I know that what he did at Inter last year was only a taste of what he can do for them. He wasn't used correctly half the time and not really given proper opportunity... He'd come on, do really well and be benched next game.

I hate Inter, but at the same time I'm being realistic... There's no point in saying they've got a terrible team just because I hate them... Instead I say they've got a good team, and now have a good coach... But I still hope everything goes bad because I hate them 


And yes, I'm Portuguese... But if he was crap I'd say so... I'm not biased, I call it as it is... Joao Mario at a different team would have been 10x the player...


---
RE: Summer transfer window 2017 - porcho - 07-27-2017


(07-26-2017, 11:33 AM)

Siregar Wrote: Taken from other forum:



Renato Sanches is close to joining Milan for a figure in the vicinity of €40m. The player should sign a four-year contract [L'Equipe].



So, from Loan with option to buy and obligation to buy, we will buy him straight?

I read it on transfermarkt, transfer fee was 35 mil euros when he left for Bayern. I also read there was bonuses which could be insane of money, which means he was valued by Bayern more than 35 mil euros but later not in that time (since the rest of 35 mil euros are bonuses).
Sanchez did not get many games last season and I heard that he didn't do well with Bayern, how come the price raises?

I know it is only a rumour but 40 mil euros seems too much. Some mil euros (I heard it around 7 mil euros for two seasons) for only the loan and 40 mil euros for the transfer fee if we chose to buy him is a very good deal IMO, it gives more guarantee for us.

EDIT:

Found this videon on youtube. I am not that impressed since there is not offensive skill like dribbling and so (also no scoring) but it seems he has something in his strength even though he is not that big and especially his passing. Watching Chelsea vs Bayern last night and he did not bad, still his plus is passing. He always stayed in the middle, making accurate passes. 

Someone who watch him regularly should give his review about Sanches.

Simply put... He's a good player. Strong, good passing, tenacious... But still so very raw. He has plenty to learn. I've said it here a few times before... Portuguese media have a habit of blowing Benfica's players out of proportion...

If I remember correctly, the added clauses where things like, playing x number of games for Portugal(which he hasn't been lately), being named in the 

World Team of the Year or FIFA World Player of the Year. Those sorts of things... in other words... if he's just a good player for them or less - they've paid 35mill... if he becomes one of the worlds best... they could end up paying up to 80mill...




In saying that... Bayern likely want the extra 5 mill because he's still a very talented midfielder... It's nothing compared to what Real did... Sign Morata for 32mill(ignoring the fact that that wasn't much on what they got for him in the first place) and sold him 12 months later for 78mill after spending most of the season warming the bench



For me... 2 year loan with the option is the only thing we should be considering... If he does well... we keep him, if not, he'll go back... If we buy him and he flops then we're stuck with a 40-45million dollar kid that could have been good... But there's no doubt he still has the potential to be big... Bayern are just silly giving up on him already


Quote:

Fassone says Sanches is too expensive and that there are no talks ongoing. But if Bayern lower their asking price then talks can start again.
I think this is just Fassone talking. We've likely sent our loan with option offer and Bayern are trying to force us into a permanent move... Rumours where saying that Carlo was convincing Renato to be a Milan fan and choose Milan. He's already said he'd be open to coming... Would be a good move for us and he'll get more playing time here then there. Plus, after the last season he had, there aren't many clubs wanting to take the risk on him. Fassone is likely playing hardball and waiting for Bayern to come to the party which they likely will... They don't have many options... I trust Fassone is doing his best to get Sanches for the RIGHT deal

edit:

Quote:

Milan have offered €10m for the 2-year loan for Renato Sanches with a €35m option to buy at the end of the loan. Mendes is working on convincing Bayern Munich.

I'm happy with that deal... If he flops, he only cost 10m... If he explodes and we sign him... 45mill for a 19 year old with the potential to be one of the best is fair...


---
RE: Summer transfer window 2017 - porcho - 07-27-2017


(07-26-2017, 04:36 PM)

nefremo Wrote: I feel like Aubameyang is one of those players that even at 31/32, he would be faster than most other strikers. But more so than that, I believe it's a misconception that pace is his biggest resource. Sure, he uses it well and it's difficult to deal with for defenders......but he is very smart in his movement. One of the best around at that. I've mentioned this several times...but just look at the 2nd goal he scored against just a few days ago. It had nothing to do with pace, but all with smart movement and reading the situation. He made 3 movements in the lead up to that goal. All world class.

He is also really good on the ball. Not so much in 1v1 stuff, but he has a great first touch on the ball. IMO, this is actually where his pace and explosiveness helps him out more than anything. He is always able to create separation from the defender when receiving the ball to feet and facing with back to goal. Again, in the game against us in China, he was able to effortlessly create separation from his mark when checking back to the ball...and than showed great ability to receive the ball perfectly with his first touch and bring others into the attack. Watching Bacca attempt to do this is the most frustrating thing I've witnessed in these last 2 years. It's like he is incapable of receiving the ball with his back to goal and a defender near him.

About Costa, I agree with everyone that says that he is a great CF. There is no argument there. The abilities are not up for debate. But I am really reluctant on taking him JUST for 6 months as most reports are suggesting. I think we need a medium-long term solution.

Agree with Hitman on the Belotti price. he should not cost more than 40mil....maybe a stretch to 50 at most (which would be overpaying, but that that seems the norm these days). Anything more than that is just pure stupidity.

Agree with just about everything about Auba. He's quick, but he uses his pace at just the right moments... 
I'm ok with Costa but 100% not if he's only coming for a 6 month loan...


---
RE: Summer transfer window 2017 - Karl08 - 07-27-2017

Auba, for his tall physique, he got a very good acceleration (that and his max speed + awareness).
I'm sure even with how serie A plays, they wont able to stop aubameyang's quick dash.
Even if he's 33 years, i'm sure he can skip past most serie a defenders with ease.


---
RE: Summer transfer window 2017 - GeoTav - 07-27-2017

We're linked with Benassi of Torino for our midfield, as it seems to be difficult to deal with Bayern for Sanches.
Torino put a 15M pricetag on him, while they want Niang. The pricetag is also 15M for Niang.
Both teams would be in negotiations for a direct swap of players, ending our mercato for the midfield, and making Miha happy in Torino.

It's also reported that both Locatelli and Donnarumma are his "sponsors" in our team and would like to see him in Milan.


---