---
RE: Summer transfer window 2017 - ACMILAN1983 - 05-24-2017

When I read that my thought was that it has to be in response to the rumours of keita to juve.

However, I've not hidden my admiration for Schick this year, so would be lying if I didn't admit a part of me dreams of this happening, possibly even more than Keita


---
RE: Summer transfer window 2017 - reza - 05-25-2017

The rumour mill is silly though, di marzio says Milan joined the race for him but Juve and Roma are ahead and Inter are in there too. 'A good player is wanted by all the bigger teams' is like a standard formula and too often in rumours.


---
RE: Summer transfer window 2017 - AC_Troy - 05-25-2017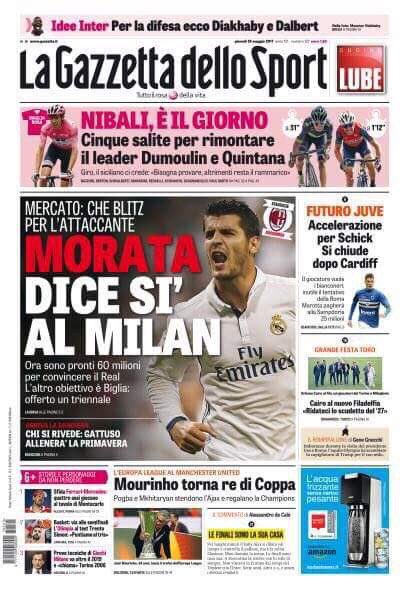 ---
RE: Summer transfer window 2017 - porcho - 05-25-2017

I'd rather Douglas Costa over Keita in a heart beat! I prefer the 4-3-3 and I feel auba or belotti would be better options as a lone striker.
of course it means we'll need to keep Niang(backup) and sign another young backup. Can't have only two wingers... (ignoring Bonaventura because for me he's a key midfielder for us)

Disappointed we've missed out on Tielemans, would rather have us sign him over Kessie...


---
RE: Summer transfer window 2017 - devoted_dm - 05-25-2017

Wow, if it's true that Morata said yes to Milan, then that's a massive signing for us (though we need a deal with RM too).


---
RE: Summer transfer window 2017 - porcho - 05-25-2017

rumour is that Man Utd are ready to offer 75 for Gigio... I'd take it... If it came with another 125mill...
I don't ever want to lose him unless we're offered a completely stupid amount like 200mill


---
RE: Summer transfer window 2017 - somedevil - 05-25-2017


(05-24-2017, 08:55 AM)

GeoTav Wrote: Thauvin is another French player who is labelled as "stupid" (it's written in his eyes). Seriously, I don't want him, as talented as he can be, the guy has no brain and doesn't deserve to be linked to Milan.

This is the reason I am not too keen on him. He's not the smarted around. Another Menez/Boateng type personality.


---
RE: Summer transfer window 2017 - sylrus - 05-25-2017

1 out of 10 rating in a newcastle shirt does mean something rofl


---
RE: Summer transfer window 2017 - Ryo - 05-25-2017


(05-24-2017, 05:04 PM)

ZvonimirBoban Wrote: Is Musacchio official? His med check was 2 days ago and yet I haven't seen any formal announcement?

I expect they probably want to make the formal announcement when our season is actually over and the mercato actually starts. 

That and probably because they want to make an announcement for multiple signings instead of one by one? Who knows mate, we have yet to understand just how the new management operates.


---
RE: Summer transfer window 2017 - WCmilan - 05-25-2017

I haven't responded to this thread in a while because of work etc. so I'm going back a few pages to the Morata/Belotti debate

@nefremo
I pretty much agree with Jay's opinion on Morata completely. I watched him for Madrid a few times this year & While his goal/game ratio is pretty good his overall tally of goals is what really counts to me and its not that great. At one point in the season Belotti had 22 goals in 24 matches, I'm sure he didn't play full 90 mins in those 24 matches so he'd probably have a goal/88 minutes at that point of the season just like Morata. I can guarantee the more actual game time Morata plays the faster that number will drop so it's really an irrelevant and never indicative nor accurate portrayal of a players real scoring ability. Pato had an amazing goal/game ratio - it's too bad he was always injured. I mean, Ronaldo scores 50 goals a season so he wins all kinds of awards, one of them being the golden boot for top scorer - what award is there for most goals/minute? There's a reason there's no award. And that one year difference in age makes somewhat of a difference to me, because a player can improve A LOT in one year it's really not something to underestimate. An entire year of training is a big advantage.

I'm not saying I'm against buying Morata, but I definitely rate Belotti as a better player & if there only a 10-15mln price difference then I'd jump at Belotti. Again, this is my opinion and it's OK for opinions to be different - when it comes to statistics it's obvious Belotti scores double the amount of goals/game, but Morata plays fewer minutes & scores more goals per actual minutes played - probably because he's been second fiddle to better strikers at larger clubs for most of his career.

Nonetheless, I welcome him and he'd still be a major signing for this Milan. What I can definitely say I agree with is the fact that I'd take Aubameyang over either of the two at this point. If he's costing the same money, I'd rather go for a proven goalscorer.

I'm happy to see Musacchio signed, in good form he's one of the best CB's I've seen in action presently. He will do great alongside Romagnoli I'm confident of it. He's very athletic and well built, I think he really needs a new challenge and hopefully also stays injury free. Silva had some injury problems too, hopefully, Milan Lab can work their magic. It's really a flip of a coin, they either turn a player into a superhuman like Maldini & co or they turn them into glass like Pato


The next two signings should be Rodriguez & Conti while selling De Sciglio to Juventus for minimum 20mln or let him rot on bench like has been discussed.

In midfield, it seems Kessie is wrapped up for some odd 25-28mln euros. He's a good player & in today's market, we can't complain about the price. He's a top prospect in Serie A and plays like a veteran. Our next signings look like they could be Biglia & Luiz Gustavo. I'm fine with this, two experienced players who can instantly raise the level of this squad and make us competitive. By the time they're hanging up the boots we'll have Locatelli, Kessie & co. ready to step in at the top of their game. Although, I hope it wouldn't be too much to ask that we get rid of Poli, Fernandez etc. and maybe bring in another midfielder as well - maybe Pellegrini?

In attack, I really don't care who we sign between Aubameyang, Morata or Belotti. Whichever players price makes the most sense is the player I'd go for TBH. I love Belotti because he reminds me of Shevchenko and he looks like a real superstar but if he's going to cost 80mln euros then it's a no-brainer to go for either of those other two. On the wings, Keita & Papu Gomez + Get Niang back. We'll have Deulofeu, Ocampos & Honda leaving so it only makes sense that we bring in at least 3 wingers. If Bacca &/or Lapadula are sold then we'd need another striker as well in addition. I really hoped for a big name in attack, Keita definitely is a top notch signing but he's not Douglas Costa - he is my absolute first choice based on cost & potential availability in this market - of course, other opportunities may arise. For all we know, Eden Hazard or Willian might want to leave Chelsea, Juan Mata might be on his way out etc.

On a side note: I'm sure the names we're linked with will only grow as the market develops. While I do appreciate making quick signings to get the chemistry going, I would never underestimate the potential opportunities that the market brings by being patient. I don't mean waiting until the last day, but I hope our quickfire signings dont limit us from making a signing that is an absolute bargain and could really elevate this team. Players not being able to agree terms with their club, players having random falling outs, players who take some time to be convinced of a move - these are all opportunities that come up near the end and we frequently see near deadline day transfers that are massive.


---