---
RE: Summer transfer window 2017 - slifersd - 05-29-2017


(05-29-2017, 11:54 AM)

nefremo Wrote: Maybe some of us are being hard on him, but I think you are excusing him too easily.

The fact is that the offer (which is  REALLY good on by the way at 3.5mil) has been on the table and he is reflecting on it. It's clear now that this is not a media crap story. He is really thinking of leaving at this point. It shows us what kind of a human being we have on our hands, and moving forward, even if he signs the extention (whoch i think he will), we for sure now know that he will leave Milan...and probably pretty soon at that too.

As I said, I am really disappointed with him. Reminds me why I have not gotten (and will not get) attached to a player since Shevchenko. Sadly, the Maldinis and Tottis of this world do not exist anymore. Players are turning into money hungry vulchers at 18. Quite sad really that you start playing the game for money at that age. I would think at least at the beginning of your career you would care a lot more about the passion and emotion and love that football offers. But, guess not. Us diehard fans are a different breed I guess...

I don't necessarily disagree with you in that Donna is indeed responsible for a lot of this. I am just saying, this is not the kind of situation that a normal 18 year old would know how to handle. I am in my very early 30s, and changed a couple of jobs in recent years, so I kind of understand the situation here from a personal level to a degree. 

Do I think the team's offer is fair? Sure. But what is the definition of fair? It is tempting to say, he is making 3.5M a year, he should be happy! And he would be very happy with 3.5M a year, I am sure of it. But what happens when another team comes along with $5M a year? That is almost 40% more money per year. Not a small chunk of change to say no to, especially for someone who has never really seen big money before like Donna. The kid is simply being blinded by the spotlight and all the glamour that came along with it that he has lost sight of what he really want. Again, not good, but not unusual for such a young kid at the beginning of his career. Times like this, having an agent whose priority is on the player instead of his own wallet would make things much better. An experienced agent can walk the player through the process and help him align his priorities. Unfortunately, Donna has Raiola, who is the opposite of that, so that's just how it is. 

I think the fans are understandably disappointed in Donna right now, and nobody can blame them for that. I can't say I am proud of Donna myself. I am just trying to see things from the personal perspective of Donna to understand where he is coming from. I don't think he is a greedy little brat who is drunk on his own new found spotlight. Instead, I see him as an 18 year old immature kid trying to learn about the business aspects of soccer. Times have changed dramatically in the world of soccer the last 10-20 years, and it is hard to have another Maldini or Totti nowadays given the amount of money involved. Hell, I am not even sure Maldini or Totti would've made the same decisions if they just broke into first team right now.


---
RE: Summer transfer window 2017 - ACMILAN1983 - 05-29-2017

Things are starting to unravel with Raiola's actions. His words the other day were clearly in an attempt to calm the storm and avoid irritating the wrong people in this situation.

Then there was the announcement that the rumours about Napoli showing interest in Donnarumma were leaked fabrications by him. Next people from other top teams, including Juve's Marotta, urged Milan to keep Gigio. I honestly think Marotta's comments were diplomacy as they probably want to avoid a market war with Milan (will go into that in a sec).

Finally, there's now news that City have paid 50m for Benfica's Ederson, meaning all that's left is United potentially being interested if De Gea leaves. That's a terrible situation for Raiola to be in.

On Juve, I think we'll see both Milan and Juve try to avoid stepping too much on each other's shoes. Juve want De Sciglio so won't want to do something stupid to risk the deal. On top of that, both clubs have been linked to the same names. If rumours are believed, Keita, Bernadeschi and Schick all want Juve, but there's no chance all will go there. I think Bernadeschi and maybe Schick will eventually go (though I think the latter can be convinced otherwise with certain guarantees), but I think Fassone and Mirabelli will do what it takes to get Keita. As both clubs at this point have certain targets they want that the other can make it difficult for them to get or drive up the price, we may see an unspoken pact to not directly impede each other's market as much as possible.


---
RE: Summer transfer window 2017 - AC_Troy - 05-29-2017


---
RE: Summer transfer window 2017 - nefremo - 05-29-2017

That's actually not a bad team at all. I'd prefer someone else in the middle apart from Biglia though.

I also think that if Keita was to come, we have to play him as a SS. He is decent as a winger, but can be predictable. Suso's influence on the wing has also been progressively worse as he is also predictable there. Unless we get different wingers than those in that picture, I think we seriously need to consider the 3-5-2 as the primary formation.


---
RE: Summer transfer window 2017 - porcho - 05-30-2017

Atalanta midfielder Franck Kessié will have his Milan medical tomorrow, according to reports.

AC_Troy - Good team. Happy with all those although would still prefer Auba or Belotti... agree with nefremo that Biglia isn't exactly an amazing choice although handy to have and Suso has been average and predictable in the last couple of months.

Say we do move to a 3-5-2

need another quality CB(DES+$$ for Rugani) or Pepe for free? I know how much so many people here like Pepe so i'll use him as the example

If we get Tolisso, then there goes Biglia...
Rumours about Tolisso are increasing...

----------------------------Gigio-----------------------------
--------------Roma---Musacchio---Pepe----------------
Conti-------Kessie-----Tolisso------Bona---Rodriguez
---------------Auba/Belotti-----Keita---------------------


---
RE: Summer transfer window 2017 - porcho - 05-30-2017

"After Kessie, Milan's next target for the midfield is Correntin Tolisso. His price tag is €40m [Corriere della Sera]"

"Mirabelli has informed Bertolacci's agent that the player is on the market. The player in not in Milan's plans for next season [Calciomercato.com]."

"Likely transfer formula which will see Kessie join Milan is two-year loan with obligation to buy. Transfer fee €28m including bonuses [Sky]."

"Franck Kessie will undergo his Milan medical tomorrow morning." from the looks of various sources.

"Gabriel Paletta is among the profiles Bologna are interested in. Milan would not oppose a possible transfer [MilanNews]."

and much to Sampinjon's disgust... "Montella is set to sign a contract extension."


---
RE: Summer transfer window 2017 - AC_Troy - 05-30-2017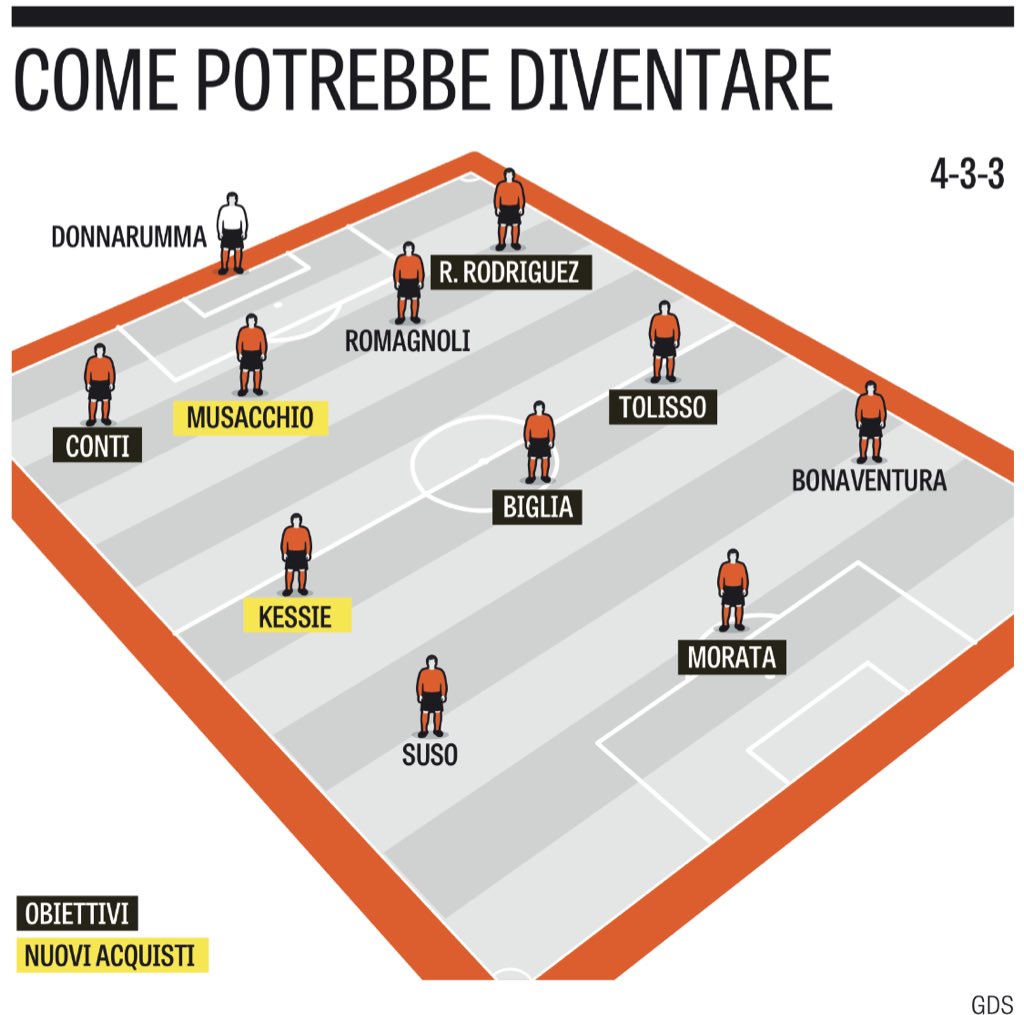 ---
RE: Summer transfer window 2017 - AC_Troy - 05-30-2017

My god if that happens


---
RE: Summer transfer window 2017 - am I Milan enough? - 05-30-2017

What is Tolisso's position? I read we re ready to offer 50M. And wait !Benfica 's GK Ederson for 50M?? This club sure knows how to earn big bucks for their talents. (and City was desperate too to get a better goalie)


---
RE: Summer transfer window 2017 - nefremo - 05-30-2017

Tolisso is more or less a CM to make is simple. I've actually seen him occupy one of the holding mid positions in a double pivot system, a LCM position, and even the AM position behind the striker. He is what you would call a "modern CM". Does many things well. I don't think he is in the highest bracket of midfielders out there (yet the price quoted is as if he is...hence why not msny clubs are willing to pay it). I think he is currently some way under the elite players we find ourselves dreaming about. I also think he is below the level of guys like Kovacic. The good thing is that he is 22yrs old and has a ton of upside, so yes, he probably has the potential to reach that elite level. I am just worried that we are spending all our money on guys that have the potential to reach that level, yet none of them are there yet. I think we really need a few guys that are already there...


---