On a whim, I decided to abandon my FM16 Milan save and buy FM17 to start a new one. I had started a previous thread for FM16 but then I was too far into the game and had won everything already so I decided to take on the challenge Montella had when he took over Milan. 
I took over the team at the beginning of the 2016 season and immediately Berlusconi informed me that I must make the team play attacking football and focus on developing the youth. to accomplish all of that he gacve me a grand budget of 6 million Euros. Grazie Presidente? 
I decided to not do any transfers whatsoever to keep it all as close to reality as possible and I even decided to adopt Montella's style of play. Suso on the right wing, Jack on the left but I did decide to play two strikers up front - Just like Mr. President wants. 
That worked out as well as anyone can imagine and after a humiliating defeat at Juventus I knew I had to change things around. So I decided to go back to the drawing board and start from scratch. 
The tactical setup.
I want my central defensive pair to do just one thing- Defend! So they have been told to stay in position, not go forward and in no way should they make long passes. All they do is spread the ball to the wings and to the holding midfield that is right in front of them. 
I created the holding midfield role specially for Montolivo coz let's face it. I can't isolate the captain as a new coach or the squad harmony will be disturbed. But this is in no way a regista role. I am using the few good qualities Montolivo has namely interceptions and making a pass when not under pressure. 
So all he does is sweep up long balls and opposition clearances and then relays a quick sideways pass top the wingers or the fullbacks. The fullbacks have to be attacking coz there is no other way to do things in modern football. Although our fullbacks aren't anything great, I have no choice but to play them in an attacking manner. 
To counter the defensive gaps left behind them, I have positioned two midfielders right in front of Montolivo. We have an abundance of workhorses and this works in my favor. The two midfielders are supposed to help in defending against opposition wingers in conjunction with the fullbacks, & are supposed to close down aggressively and go forward rapidly in case of a counter attack and wreak havoc in the opposition area. 
The left midfielder is the creative one (Mati, Bertolacci, Sosa etc.) who has the freedom to make creative passes, send in killer balls etc. And while they are in the opposition box, they make quick little passes, retaining possession in a dangerous position. Montolivo has been told to stand right outside the box, waiting for any stray balls, clearances and deflection which he can take a long shot at. In the game he has the long shot attribute set at 15 which is good enough for me. 
The wingers have been given a very attacking role. Let's face it. I don't expect Jack or Deulfeu or Suso to track back and help with defending so why bother at all? They are instructed to play free football, dribble all over the place, take on opponents and provide dangerous balls for Bacca to slot home. And as for Bacca, he does two things- He stays mostly in the box with one motive- to take shots. And during the buildup process (especially when the opposition has parked the bus) he move to the channels or drops deep taking with him opposition players and creating space in the opposition area for midfielders who are charging forward (Nocerino flashbacks). This very often crates great chances for the wingers and fullbacks to score goals. Abate scored a stunner recently.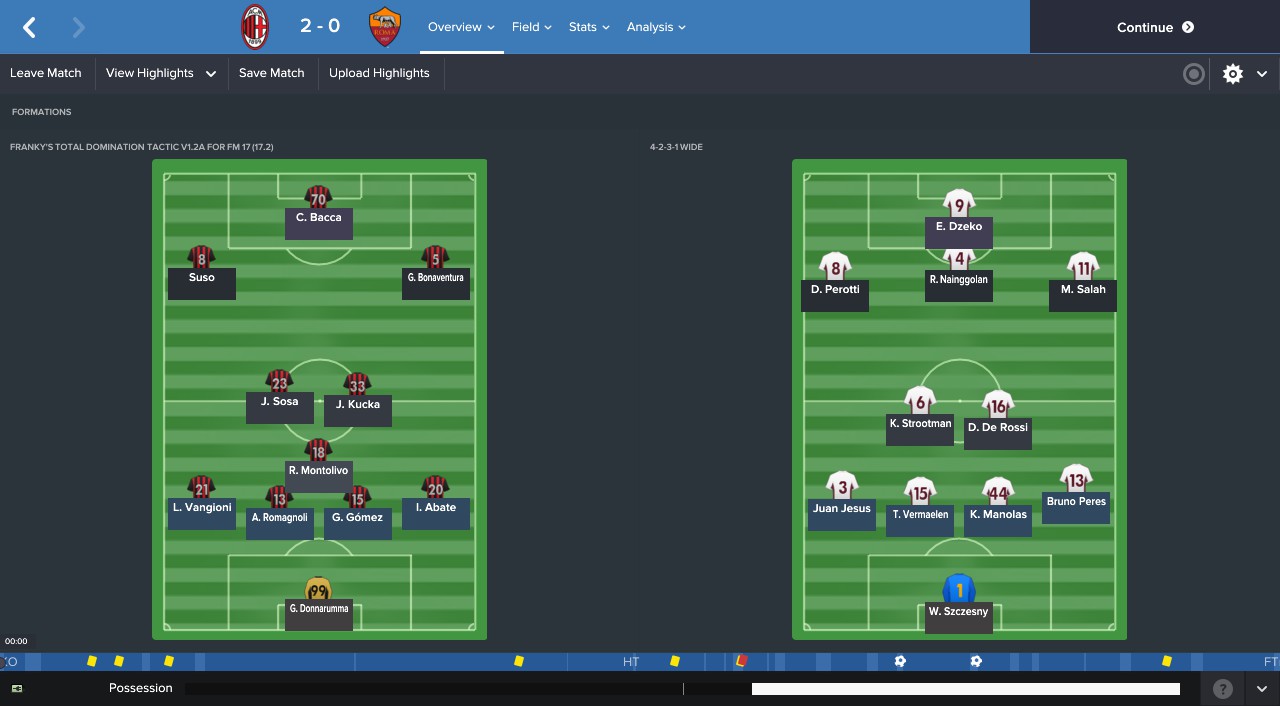 This tactic has served me very well and I sit in a comfortable position in the league halfway through the season. Majorly thanks to other teams fucking up and Bacca being in super form. 
It is amazing how realistic FM is as my season has been a replica of our current season. Matches being won in the last minute, matches being won only coz of individual skill and completely bottling it up against provincial teams. It is really really hard to manage Milan on the game and it feels surreally close to how it was in reality last season. 
Anyways, here is where we stand in January. I don't know how the hell did we stumbled to the top.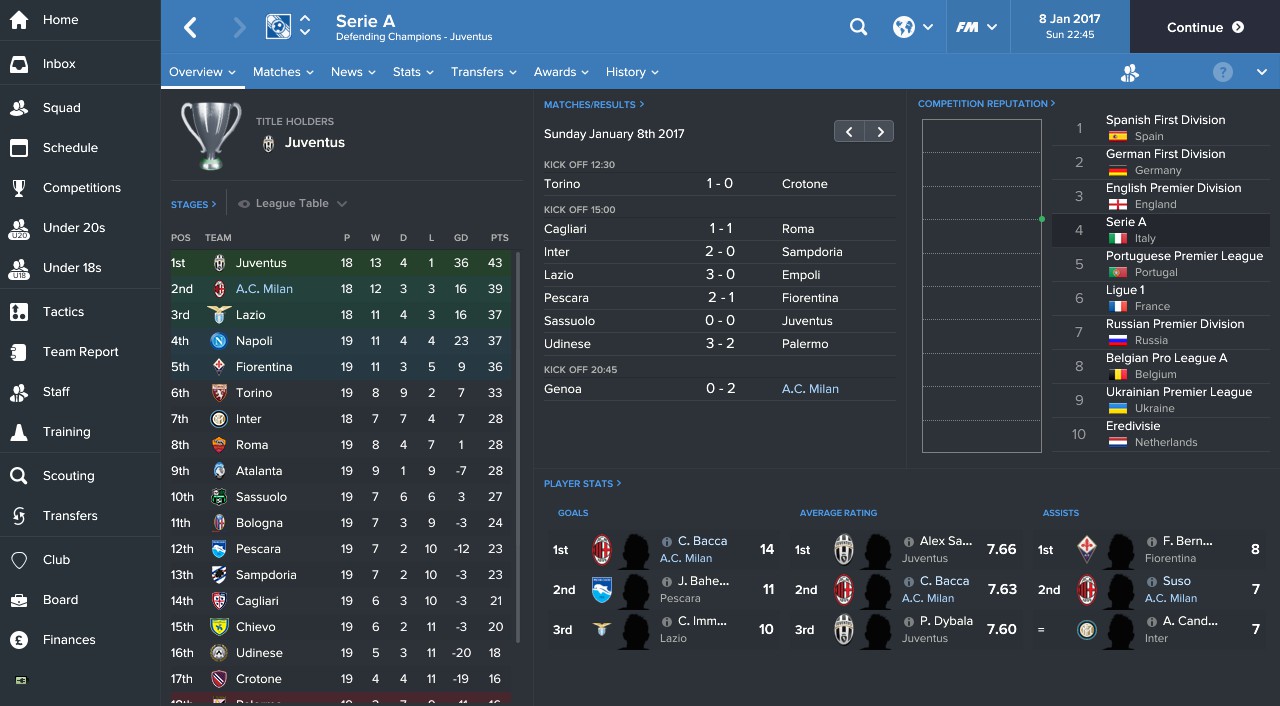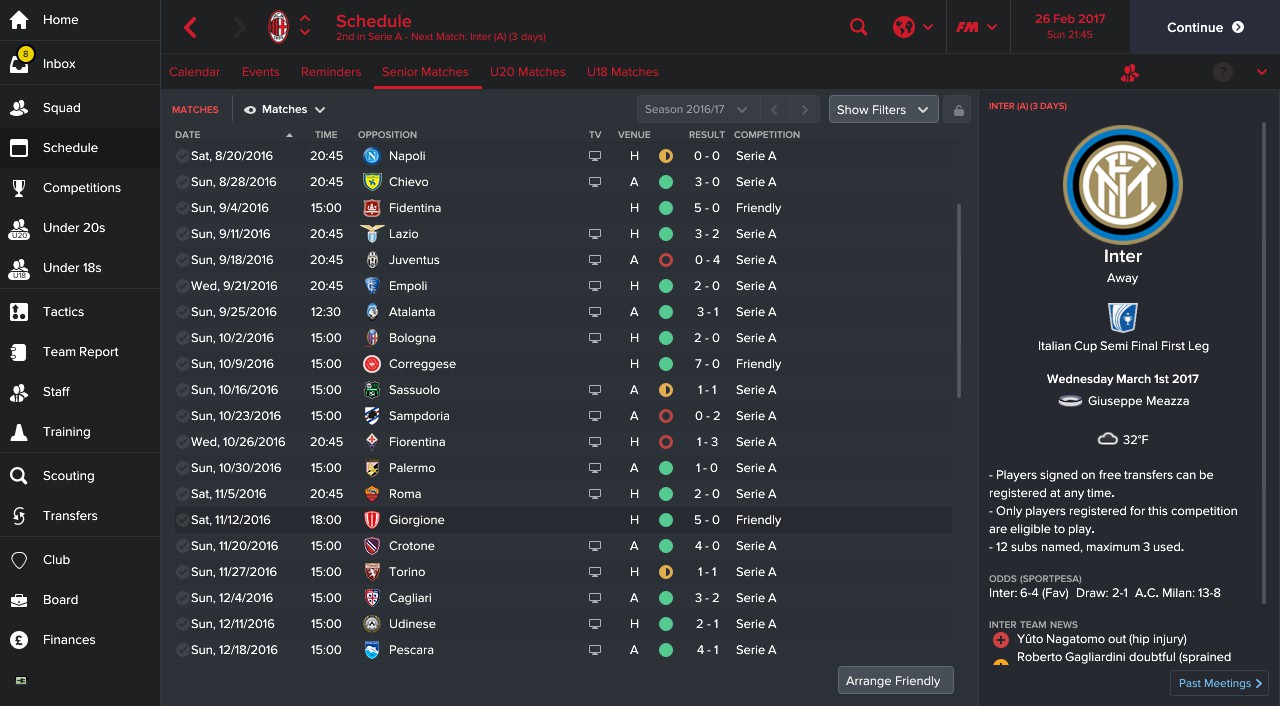 And there is more drama to come...